Welcome to the Oddity Archive Wiki
Edit
This is the Oddity Archive Wiki. You can edit any page (even the main page). However, try to make sure your edits are constructive and not vandalism.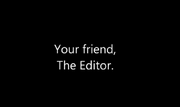 By the way, we told Ed Itor, the editor, that he can't be the only editor here, because, (1.) he would have to spend hours editing this whole wiki, and (2.), Ed gots a lot of work to do at the Archive anyways. So, we here at the Archive's wiki (which is just me, Zee) encourge Archive fans and dwellers to help us edit and improve this wiki. You don't even have to create an account.
What is this show?
Edit
The Oddity Archive discusses the odd, obscure, and obsolete areas of TV, Film, Music, and Technology, mostly before the 2000s.
What do you think is the scariest oddity?
What is your favorite video format?
What is your favorite thing about the Oddity Archive?
Our Pages
Edit
External Links
Edit
Community content is available under
CC-BY-SA
unless otherwise noted.